The Cottage
S. Mission Beach
San Diego, California
---
Charming and spotlessly clean, single family unattached cottage located in beautiful south Mission Beach, just steps away from the bay and a few more to the ocean.
---
2 Bedroom/1 Bath
800 sq. ft. of Indoor Living Space
Full Size Washer & Dryer
Parking for one midsized/large car or two small cars
---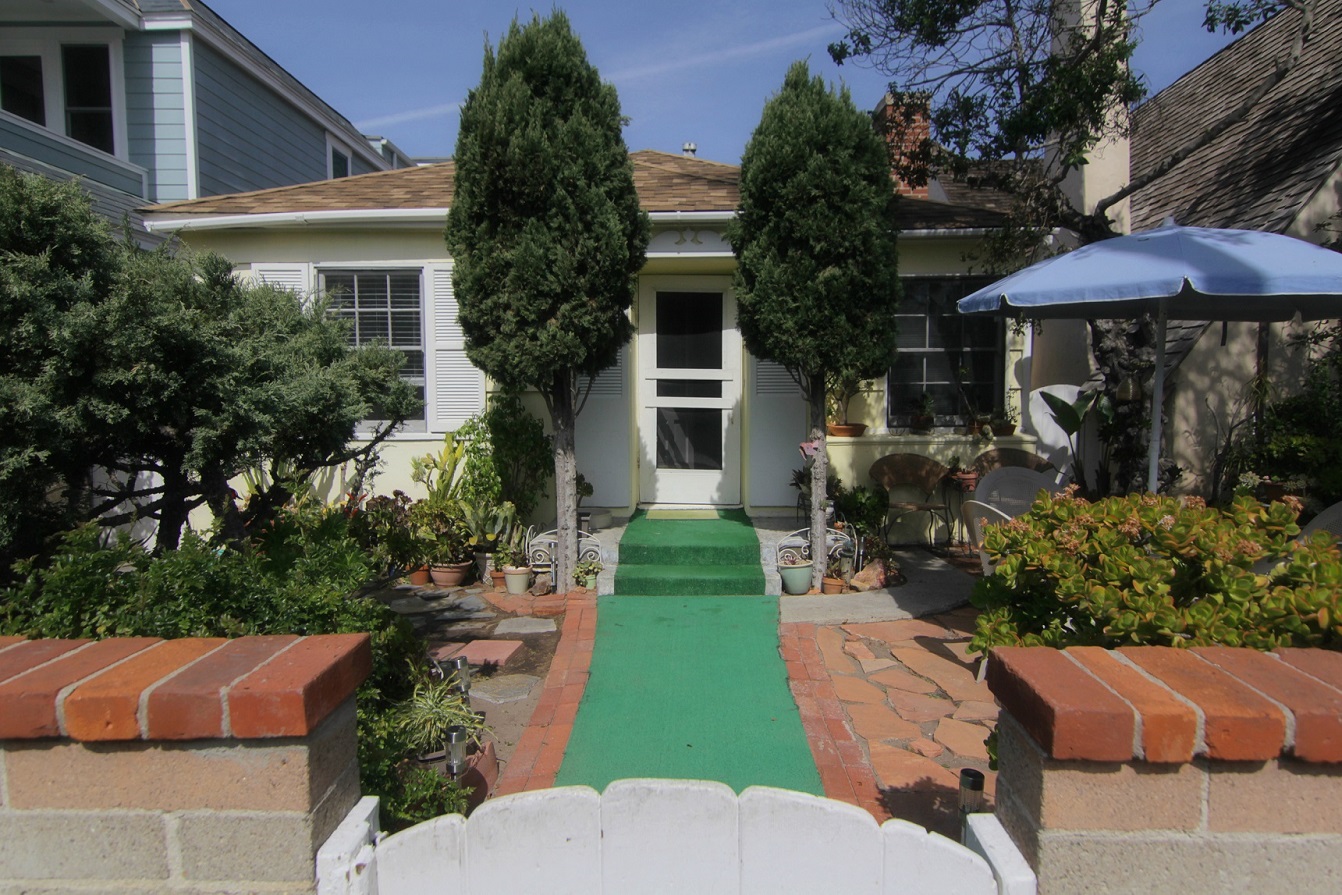 Amenities
The Cottage can accommodate up to four adults and 1 child, 2 years or under.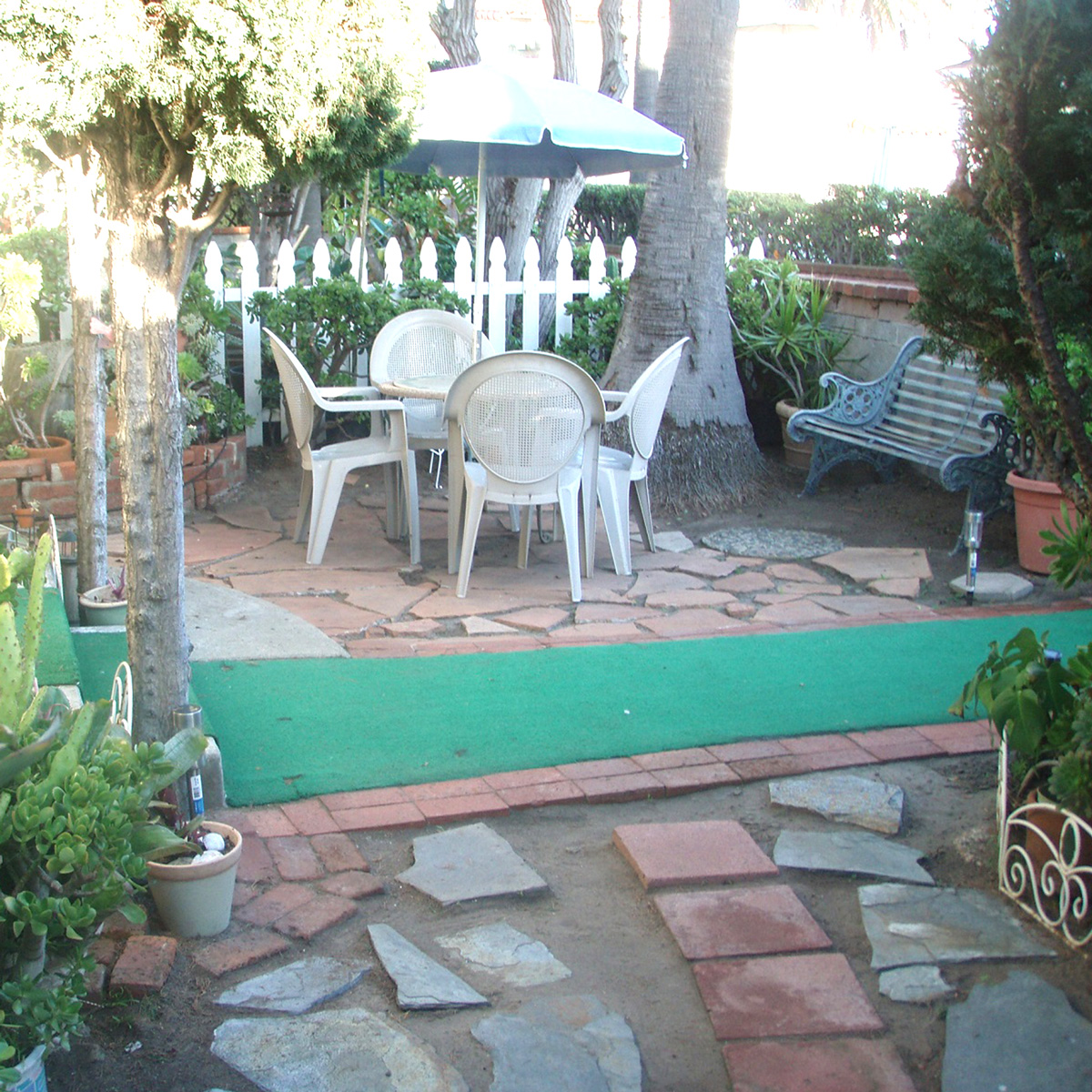 Outdoors
The cottage sits just 100 feet from the bay front, and the ocean is only about 50 yards away. For your outside dining pleasure, the pretty front yard and garden has a bistro set with an umbrella. There is also a large dining set, complete with an umbrella, in the private backyard. And, after a day at the beach or bay, you can rinse off in the conveniently located outside shower.
Included Extras
For the beach/bay
Towels, umbrellas, chairs, sand toys, boogie boards

For fun
Bicycles, cable TV, DVD Player with DVD movie library

For comfort
Ceiling fans in both bedrooms and living area, and a nice cross breeze streams through open screen doors and windows

For staying in touch
Wifi

For tiny guests
High chair, stroller and Pack 'n Play crib

For basic needs
Bar soap, toilet paper, ironing board/iron and blow dryer
Close to all the Main Attractions
A quick 5-minute walk will land you at Belmont Park, San Diego's historic oceanfront amusement park. Drive 5 minutes to SeaWorld, or 15 minutes to the San Diego Zoo, Balboa Park and the downtown Gaslamp District. It's just 15 minutes drive time to the esteemed seaside area of La Jolla. Legoland and the Safari Wild Animal Park are only 35 minutes away.

Traveling to and from the airport is a breeze, as it is only 7 miles from the cottage.
Rates & Reservations
September thru May – 3 night minimum stay
June thru August – 4 night minimum stay
Base Rate:
---
$165
per night
Prices vary depending on time of year.
8% discount for stays of 1 week (7 nights) or longer
City tax of 10.5% and $75 cleaning fee not included. There is a $400 security deposit, which is fully refundable after your stay.
Zero Tolerance policy for any kind of disruptive activity or behavior. This includes parties.
Fabulous! describes the little cottage and J-me/ Clark. We we could not of have asked for any more! They have provided a clean, safe and kid-friendly environment with many amenities; that included a stroller, bikes, sand toys, grill and excellent advice on eateries. We utilized all of it and more! There are so many details they have covered with your stay. The location of South Mission beach with the Bay and the ocean at your door step is convenient, we could of stayed in this area the entire trip. With that said, Downtown, Sea World and fantastic restaurants are within a short drive. On our next trip to San Diego we will be back to stay at The Happy Little Cottage :) Thanks---v

We have done the tourist things on previous visits to San Diego, so this time we simply wanted to relax and be the biggest, laziest beach bums around. The Happy Little Cottage allowed us to do just that. An easy walk to the Ocean and a hop and a skip to the Bay side. We enjoyed having use of the bikes too, it was fun! The cottage offered everything you could ever imagine needing and it was clean, comfortable and just very enjoyable. J-me is such a kind, caring and personable hostess. We will certainly stay here again.

Before large and expensive homes supplanted them, So. Mission Beach was lined with charming one and two-story bungalows sitting along public pathways blending gracefully with sea and sand with the comings-and-goings of laid-back beach-lovers surfing and sunning. The old south mission is alive and well with the warmth of hosts J-me and Clark and their happy little cottage, charming and efficient and well-stocked with bikes and boards.

This is a wonderful place to stay, just steps from the beach and close to Belmont Park, minutes from most attractions. J-me was a gracious hostess, well-prepared and ready to help with any questions. The bonus of having beach accessories for fun in the sun was a nice bonus. With two teens in tow, we had a great time. It is a comfortable, beautiful setting to make family memories. Well done, J-me and Clark!

What a charming place to stay. Everything was as promised. My wife and children, ages 9 and 13, loved the location, and, the garage full of beach toys and gear. Our hosts were very friendly and welcoming in their correspondences, and added personal touches along the way. No thanks to the plaster and glass condos...we want our Happy Little Cottage!

My family and I had a great time in the cottage - and were delighted with the character of the cottage which has been delightfully decorated to fit in with the seaside neighbourhood. Equipped with all the amenities we required from the well equipped kitchen to the beach equipment, we found the cottage to be very homely and we enjoyed our 3 nights in San Diego. Thanks to J-me who was a pleasure to deal with start to finish.

My husband and I had a great long weekend at The Happy Little Cottage. The house is quaint, and homey, and just what we needed. We really appreciated the front and back yards, and having the use of the bikes. It is perfectly situated between the bay and the ocean, in a quiet part of Mission. It was a little chilly in the evenings and the heater they have in the living room works great! J-Me and Clark provided great directions to the house, the check in and out was super easy, and they let us have a late check out - very much appreciated. We'll be back for sure for more mini-breaks from the rain in Portland.

A beautiful place, very close to the ocean. We have two girls and they loved the boogie boards, the beach toys and the stuffed animals that were there for them. Everything was perfect -- would highly recommend.

We really enjoyed our stay at the Happy Little Cottage. It has a great quiet location close to the beach. There was plenty of room for us and our kids and the beds were very comfortable. The garden areas were a delightful place to relax and unwind. A real bonus was all the beach gear stored in the garage -- bikes, boards and buckets to use on the beaches! We hope to stay there again on our next visit to San Diego.

The Happy Little Cottage is a piece of paradise preserved. If you are using it for a launch pad to all that San Diego has to offer than you've chosen wisely...I call it the 20 minute to anywhere and everywhere in San Diego peaceful home. If you want to play and hang out at the Beach exclusively, you found your place. It works seemingly all ways. J-me and Clark are hosts who understand why we choose vacation rentals...privacy, convenience, charm and room to roam. They live next door in another California beach charmer but never intruded on our 8 days in Mission Beach. I was concerned the "carny" Belmont Park located 1/2 mile from the cottage would diminish the Bay/Beach nature of our stay...it did NOT...the roller coaster just made it easy to tell where to turn when we arrived! J-me promptly replied to my emails as we procured Happy Cottage. Happy Cottage makes you feel like you found a post-WWII beach cottage preserved and enhanced with WIFI. The tub is a big beauty inviting even my 6'5" son to stretch out and soak. If you want beach toys, bikes, boogie boards, coolers, beach chairs and beach towels aplenty this is your place. A couple miles away in Pacific Beach you have Ralph's and Sprouts for groceries. The two porches...front and back let you modulate temperature and privacy...I loved the entire experience. Being a 2 bedroom neither my adult son nor I had to choose bunking in a living room! The price is hard to beat for a 2 bedroom cottage enveloped in the arms of the Bay and the Beach. The Ocean Beaches quiet toward sunset inviting soft contemplative walks watching "squadrons" of Pelicans flying back from their fishing. The Cottage has perfect cross ventilation and ceiling fans...just lovely. The off street parking in the alley requires a smallish vehicle angle parked..the Ford Focus we rented was no problem. Both bedrooms afforded lovely night's sleep.

We stayed at this wonderful little cottage with long time friends for a week. It was wonderful and it was big enough for 2 couples. Very quiet and relaxing. Everything we needed was there including bikes beach items etc. A very short walk to both the bay and ocean beaches. We will be back and are grateful for the nice hosts J Me and Clark Bob & Linda from Mesa AZ

The house was great and beyond perfect. Had everything we needed from bikes, boogie boards, kitchen utensils, etc. if you have babies they have cribs, high chairs, boosters, toys (sand and indoor toys). We met J-Me and she was super friendly and welcoming. We will definitely try and stay here again if it's available for our next trip to San Diefo. Highly recommend to anyone!

First off , let me say that I've rented a lot in mission beach. This little cottage , has a lot to offer that others don't. The owners, they are there if you need something, but if your doing good they leave you alone. The unit, its a stand alone home, Very clean, with nice decor. Room for one car, easy to park, most units are tight. Everything you need for the beach, is in the home, towels for shower or beach, bikes, boogie boards, umbrellas, kid toys , sew kit, beach chairs ,coffee grinder, and a ton more. All you need is food, drink, and suntan location. This is a rear find, thanks for a great week.

We have stayed at J-Me & Clark's cottage several times and always love our time there. They are wonderful host and always available if you need something, otherwise they leave you alone. They have everything you need there for the beach and makes it so easy. We will be back again soon!!

This is the best place to stay in the best neighborhood of Mission Bay if you want relaxing, quiet, homey and a feel for what's unique about the area. This is not a busy tourist area. The cottage is as described, a happy place. We felt so much at home, we didn't want to leave. You are close to an old-time family-run market and a Mexican takeout that is an local institution. Clark and J-me are responsive, friendly and flexible. In sum, their cottage is a rare find.

We spent the week at the Happy Little Cottage with our two year old and it was a perfect getaway. A cosy quaint space with everything we could need, including supplies for our toddler that helped her (and us!) feel right at home. J-me came by to meet us and our toddler warmed up to her right away. Such an awesome location with the beach right at your door, and all the attractions within easy driving distance. A great vacation!

For years, we have gone to Mission Beach for our daughter's school breaks. We stayed in one of the early cottages, 1940s through-and-through, all the charm, history and character of those decades up to today. When the owner passed and it was sold to a home flipper, we lost a piece of our story as well. After much searching, we came across The Happy Little Cottage and just returned from our first stay there. Big smiles as soon as we walked through the door! It was exactly what we were hoping for! We met the host, J-Me and she is immediately caring, informative and welcoming. Very much enjoyed our conversations. The cottage itself provided all we needed...every kitchen item you might need (except a dishwasher, so you have to do it the way Grandma did it, which was fine). The garage is full of fun things for a day at the beach, a swim or a ride down the Boardwalk. Our room and bed were comfy. There's one bathroom so that is an adjustment but it wasn't unexpected either. We went in totally aware of the pros and cons of one of these vintage cottages and we welcome them all. Thank you, J-Me and Clark for allowing us to stay in this lovely place. We plan to come to back!

This was our third time staying at the Happy Little College. It's just the perfect place for our family. Quiet, relaxing and very close to the beach, with chairs and play equipment and even bikes. J-Me and Clark made us feel very welcome and even brought us cupcakes one night. We'll certainly try to stay a fourth time when we are back in San Diego.


A beautiful little home away from home. Close to the local beaches and an easy drive into downtown San Diego. The house has loads of amenities and the hosts are excellent. There are lots of suggestions for days out and the garage is packed with beach items for you to use. The bedrooms are comfortable and the whole house is clean. We will definitely return.

We loved this charming cottage! The front and back patios were creatively landscaped. We enjoyed the fact that it had an older style with all kinds of fun nicknacks. The owners do a great job providing many different useful items, such as beach cruisers and umbrellas. The cottage was very clean and close to the beach, bay, stores, and restaurants. We plan on staying again in the future.